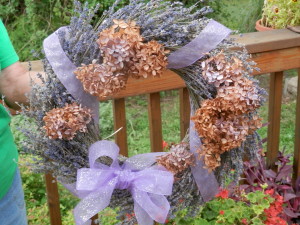 Like most lavender farms, we provide an array of products focused on both lavender and honey. Soaps, lotions, creams, infused teas, all kinds of sachets, and other craft lavender products complement our honey and honey products. We have a Lavender House where products are on display for sale, along with all the plants which are on sale from early Spring through Fall.
A central focus of our farm is the propagation of young lavender plants for sale to the public and to growers. That process occurs in our big greenhouse. We propagate many varieties, including: Buena Vista, Provence, Folgate, Tucker's Early Purple, Grosso, Super, Hidcote,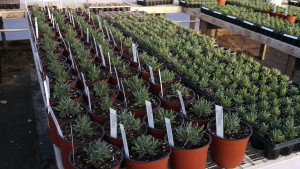 Maillette, Dilly Dilly, Fred Boutin, Croxton's Wild, Abrialii, Dutch, Sussex, Grappenhall, Royal Velvet, Royal Purple, and more. We have eliminated several varieties because we have not seen those varieties survive 3 consecutive Winters, so we will back off from them for a couple of years, and maybe try again.  We have two options: 3.5″ x 3.5″ x 4″ starter plants for growers and others who want to start with small plants, and we also have larger plants in 6″ pots that are well rooted and developed. At this point, we do not ship, so all sales are for pick-up only. Check with us for availability (we do not print a catalog), but unless you live in the South, or have your own greenhouse, I would not suggest putting any young plants out before the end of April. BUT, reserve your plants NOW for 2016, to insure we have what you need or want. From now on through Spring, everything will now be first come, first serve, for those who have not reserved their plants.
Because we attend various shows, and are on the run a lot, contact us to make sure we're here when you want to come to just visit or purchase products. We've had some great events this past year, and we look forward to an even bigger 2016.