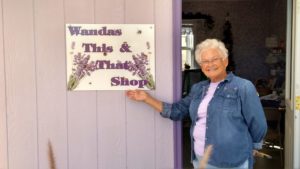 Like most lavender farms, we provide an array of products focused on both lavender and honey. Soaps, lotions, creams, infused teas, all kinds of sachets, and other craft lavender products complement our honey and honey products. Wanda's new 'This and That Shop' provides a cozy atmosphere where products are on display for sale, along with all the plants which are on sale from early Spring through Fall.
A central focus of our farm is the propagation of young lavender plants for sale to the public and to growers. That process occurs in our big greenhouse. We propagate many varieties of lavender, and test new varieties for adaptability to our climate and conditions.  We both add new varieties and eliminate varieties because they do not seem to survive or thrive.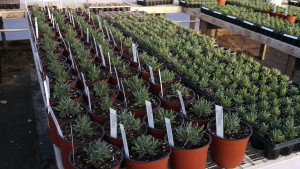 We do not ship, so all sales are for pick-up only or for sale at events we attend. Check with us for availability (we do not print a catalog), but unless you live in the South, or have your own greenhouse, I would not suggest putting any young plants out before the end of April in this part of the world.  BUT, start thinking NOW (yes a year ahead of time) for what you might want to plant to insure we have what you need or want. All plants are on a first come, first serve, basis for those who have not reserved their plants.
Because we attend various shows, and are on the run a lot, contact us to make sure we're here when you want to come to just visit or purchase products. We've had some great events the past several years, and we look forward to a great 2018.  We look forward to meeting you at one of the events.