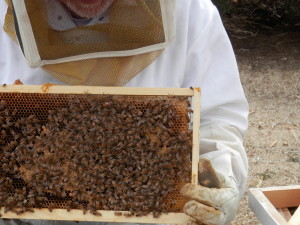 Jim first learned about bee keeping from his brother, Ron, who had bees long before Jim came back to Kansas in 1986. But as soon as Jim and his first wife moved back to Kansas, they began to keep bees on a farm near Parsons. Jim has been bee keeping since the mid-80's, and though he was busy and didn't have time to focus as much attention as he and Wanda do today, now they are more and more involved in bee keeping and bee keeping associations.
Active in the Kansas Honey Producers Association and the Northeastern Kansas Beekeepers Association, Jim and Wanda maintain about ten active hives.  Jim is the North Central coordinator for the Kansas Honey Producers Association, and is establishing a fellowship of beekeepers in that area.  We maintain calm bees, as the hives are located very close to our greenhouses where visitors come all the time.  In 16 years here on our farm and with many folks coming to our greenhouse and nursery over the years, not one customer has been stung.
Beekeeping and lavender go hand in hand, and we allow many lavenders to go through the full bloom cycle just so the bees can benefit from the pollen and nectar of the lavender. In addition to lavender, we have observed (over the years) which plants (annual and perennial) attract bees, and we cultivate those plants and add more every year, especially plants that bloom in the Fall, a time of the year when bees have a very limited supply of food for their Winter storage.  We will be offering a number of new perennials for sale in the Spring, 2016.
In the past thirty years, beekeeping has changed because of many new threats to the bee population, including pesticide use and mites. We believe these two problems are closely related and are major factors in the situation known as Colony Collapse Disorder. While in the past Jim remembers rarely losing a hive to CCD, now it is not uncommon to lose 30-50% or more of hives each Winter. Jim has noted through observation that when crops are grown that do not require chemical spray application, there is much less Winter loss of hives … which he regards as no mere coincidence! The challenges to bee populations has resulted in spending more time and attention to the health of our hives.
If you are interested in beekeeping, and whatever part of the country you live in, find a local group of beekeepers and join them. Most groups have regular meetings with lots of sharing and learning experiences.  Both groups in Kansas we are part of have scholarship programs for young people interested in getting started with beekeeping.  We find the regular meetings we attend to be invaluable … and I am sure they are in other parts of the country.